Signet Rings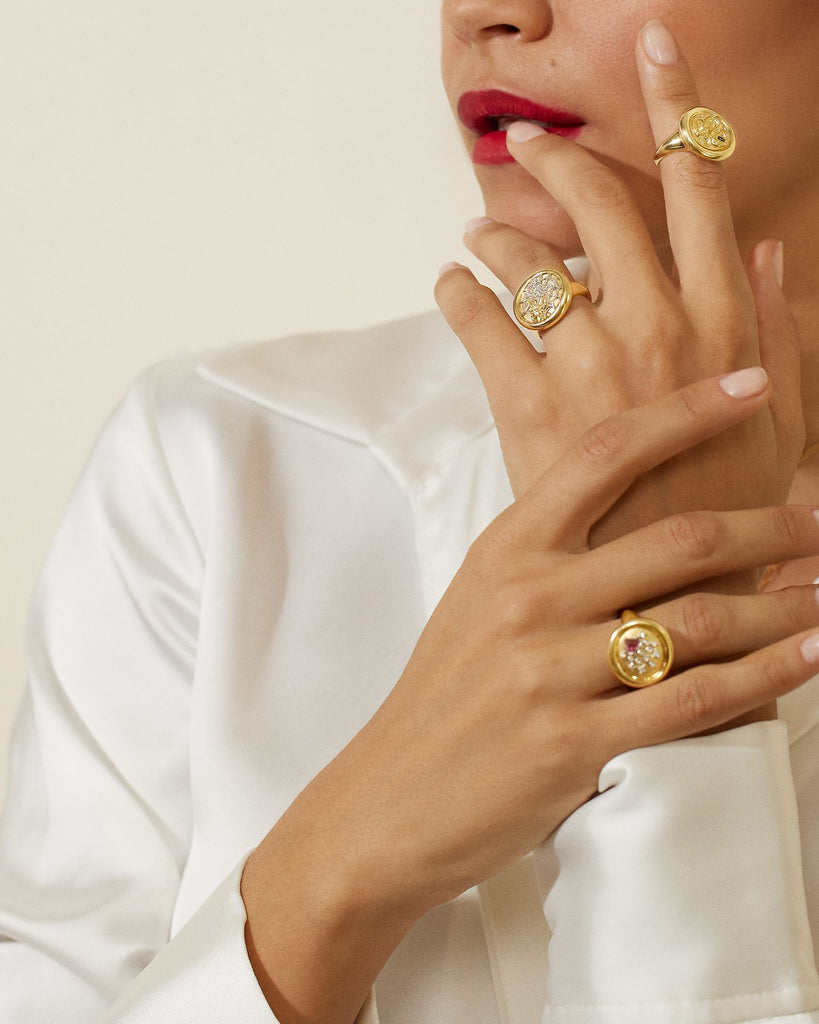 Curating a jewelry collection can be daunting. We want our jewelry collection to be timeless, maintain its value, be intentional, and complement our style.
My aesthetic translates into my designs and is classic with a wrinkle. Jackie O and Sophia Lauren have been my inspirations for many decades. It is not an odd mix. Being raised between a Boston Bromain neighborhood and Athens, Greece, created my classic, effortless dressing style with a sensual flair. I have always worn statement jewelry daily, and both women wore classic statement jewelry with their everyday clothes.
Today I see jewelry returning from trend jewelry to classic and sentimental pieces. I am excited as this is my milieu! I have worn the same middle finger ring daily for over 20 years! Our Impeccable Words signet rings and necklaces are both classic and sentimental.
Since the time of the Pharaohs, signet rings have been used to mark or seal documents with wax with a seal or family crest. Today, jewelry lovers continue to want jewelry reflecting personal mantras and intentions in intricate designs that connect on a deeper level. Inspired by antique wax seals, the Impeccable Words signet rings and necklaces become amulets to our "personal intention" of LOVE, WISDOM, and CREATIVITY.
Signet ring designs are intentional. This tradition has influenced my choice of images. LOVE is a flaming heart. WISDOM is the archetypal serpent. CREATIVITY is the spider totem. Each signet piece has the symbolism ajured on the back.