A Love That Pierces The Heart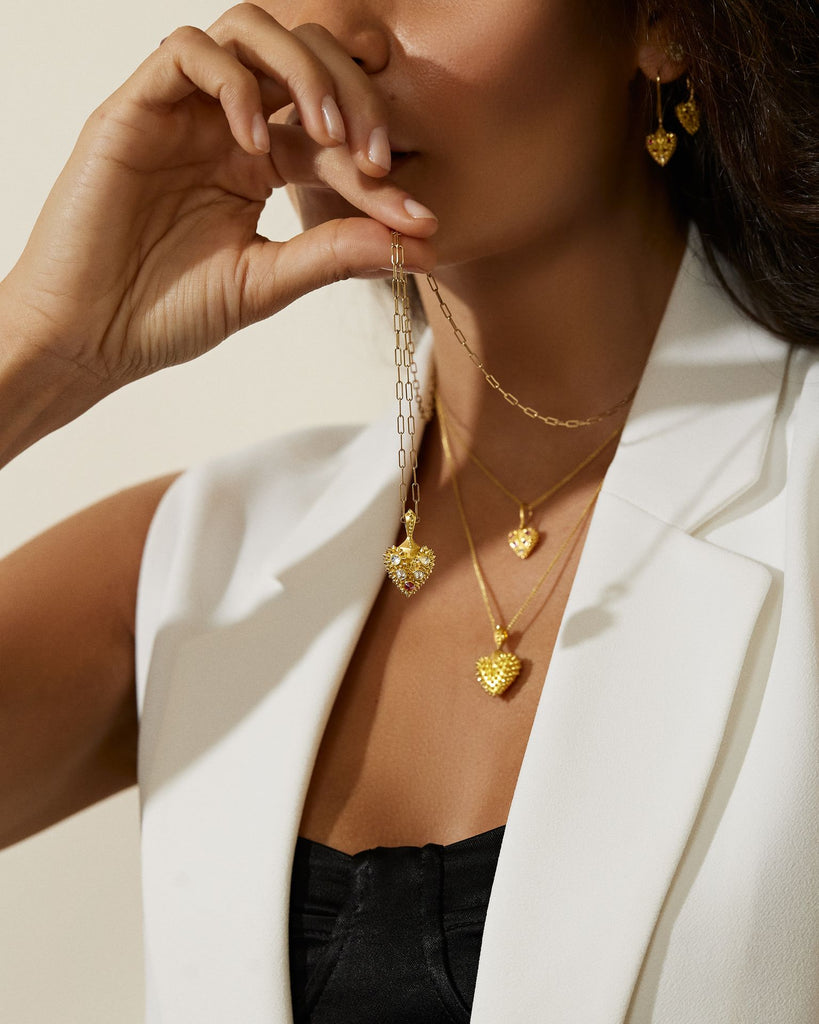 Love is a theme in my work, from Lover's Eyes to Love Tokens and Impeccable Words as loving mantras. It might be trite, but I am in love with love. I hear the mantra "I love you"  in my head throughout the day and believe it is a message from the Divine and a reminder to give love to myself and others. 2002  has been poignant in its lesson to keep my heart chakra open and courageous. The 'Pierce Your Heart' collection is an extension of this journey.
The 'Pierce Your Heart collection was inspired by my dream of an arrow piercing a heart. Love pierces us as the stone etched arrow pierces the spiked heart. Love takes us by surprise, and when we love consciously, it opens our souls to wonder, exploration, vulnerability, evolution, friendship, compassion, and passion. Love transforms us.
The 'Pierce your Heart' spikes are part of the collection's narrative and design. Our hearts are spiky, yet we find the courage to love. I have learned that our spikes are not armor but a map of a life lived courageously.
I am not a traditional heart person. My aesthetic is Jackie O meets Sophia Loren with a peppering of attitude or punk rock vibe. The 'Pierce Your Heart' collection should be worn effortlessly, feel sensual, connect us to our feminine power, and evoke our spirit's attitude.
In line with the Bauhaus design principle of "form follows function," the spikes on the back of the heart are nubbed so as not to hurt the skin and are more pronounced on the front. In addition, the gems and diamonds are inverted, creating sparkly spikes.
I layer intention into my work, and the gems have three different vibes in this collection. The ombre pink sapphires connect us with love, truth, and feminine power. The diamond and ruby hearts evokes passion, protection, and wealth with a bad a** attitude, and finally,  the diamond hearts.   Traditionally, diamonds are gems of faithfulness, love, purity, innocence, and love-filled relationships. They also cleanse our aura and bring us back to love and light.
Being in love with ourselves, our tribe, our lover, and the world is our spirits' natural state. Embrace it! I wish this for you all.