Why I Wear Talismanic Jewelry?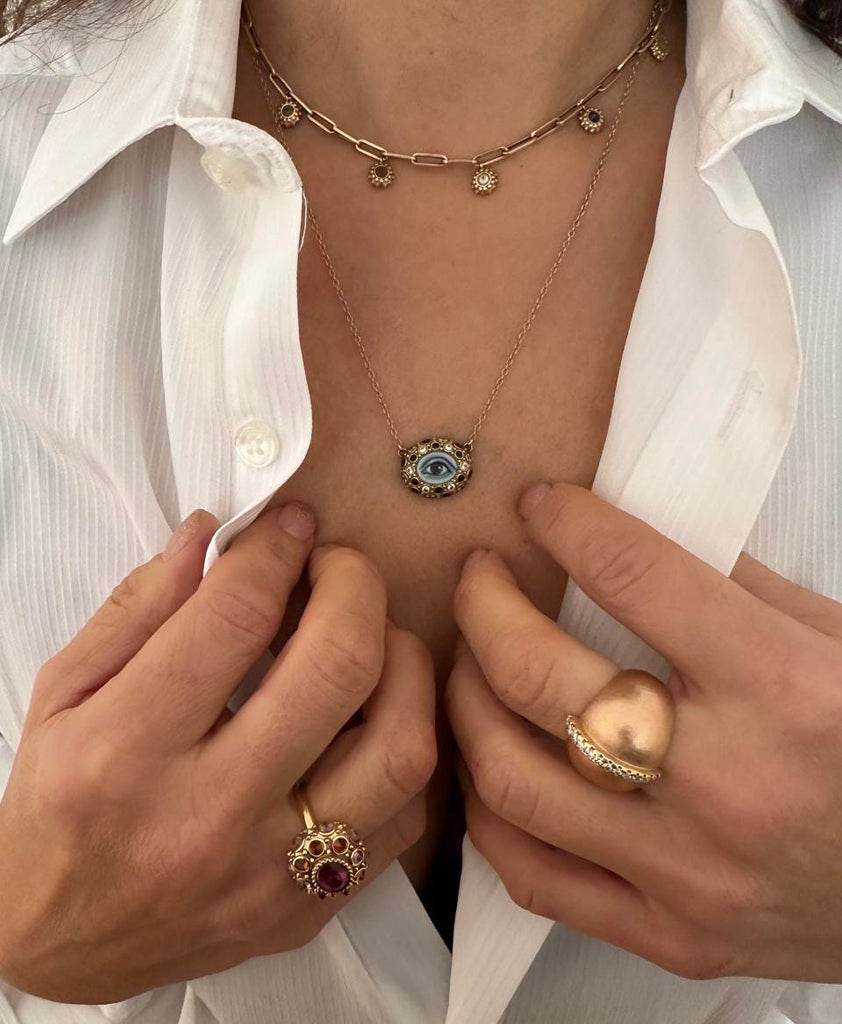 I believe in living intentionally and have a soft and sentimental heart. My work and the pieces I wear reflect love, inspiration, and intentions in intricate designs that connect on a deeper level.

In 2008, I designed the AK Talisman ring. Inspired by the sensuality and power of Italian women and how they effortlessly wear their jewelry, my ring made me feel beautiful, elegant, feminine, and opulent. I was recently single with three daughters, ages 4, 9, and 14. I remembered who I was and connected to my courage and strength. Fourteen years later, the AK Talisman ring still evokes this energy, and I feel naked without it.


My Third Eye cameo necklace reminds me to continue to listen to my intuition. The story behind the 1700s Lover's Eye inspired me to create our Eye Love Collection. My Third Eye cameo is hand carved from Brazilian agate in the image of my eye and set in our sea urchin setting with diamonds and tsavorites. The sea urchin totem and the tsavorite garnet healing properties connect us to our intuition, evolution, and the heart chakra. This concept speaks to many people as we have created Third Eye and Lover's Eye jewelry for clients globally.
(as featured in Forbes.com  https://www.forbes.com/sites/bethbernstein/2022/12/15/the-talisman-independent-designers-are-wearing-now/?sh=6f1d49d88b4e) 



During COVID, I conceptualised and created my Tribe necklace; my parents were in isolation in Austin, and the girls and I were in Boston. I needed a talisman that would keep my Tribe near me. Each birthstone was inverted-set in our sea urchin and dangled from our paper clip chain. My father has since passed, and through my necklace, we are still a Tribe.


The recent addition to my everyday pieces is my Pretty in Pink ring from our Attitude Collection. I gravitate to pink and orange tones as they remind me of effervescent joy, femininity, and sensuality. As I design in layers of intention, the gemstones also evoke spells. The center pink tourmaline connects me with inspiration, creativity, and happiness. The pink sapphire brings romance and new relationships, while the orange sapphire enhances sexual and artistic powers. It is my feminine power ring!